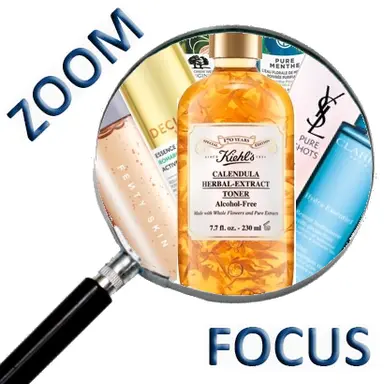 Exfoliating, moisturizing, anti-aging, pore minimizer… it has become an essential part of our beauty routines. Adored by millennials, this delightful product, in the wake of cosmetic water or liquid care, is gaining even more points as the summer approaches. The lotion is even inspiring a new generation of particularly sensorial makeover products. From flower-infused toner to essence, here's an overview of the latest.
The pleasure lotion
This one is used as a toner, after cleansing with water or after make-up removal. It can be infused with real flower petals, rose or calendula for example for Kiehl's which is launching two in limited editions to celebrate its 170th anniversary: Rosewater Toner (Heritage Collection, 230 ml, €40) and Calendula Herbal-Extract Toner, Gentle Toner with calendula petals (Commemorative Collection, 230 ml, €37.50).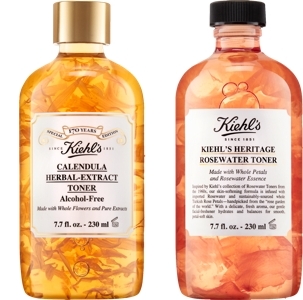 Fresh also offers one with rose petals and hyaluronic acid (Rose Deep Hydration Toner, Intense Hydration Face Lotion with Rose, 100 ml, €26).
In this category of pleasurable lotions where perfume is so essential, we can also mention the most original hydrolats of the summer, with cucumber (Hydrolat de concombre de Lueur du Sud, 200 ml, €4.90 ; Purifying Toner Fougue by Eyden, 200 ml, €30.60), lemon verbena, perfect for waking up the complexion (Eau Florale Verveine Citronnée Di Nina, 100 ml, €18) or peppermint (Pure Menthe L'Eau Florale de Menthe Poivrée Purifiante by Yves Rocher, 150 ml, €14.90).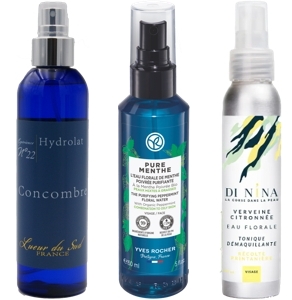 Exfoliating or purifying
Ren Clean Skincare loves lotions so much that it offers limited editions for summer, such as Ready Steady Glow Daily AHA Lotion (250 ml, €33) with organic cucumber extract, lactic acid and natural AHAs from willow bark. It can be used daily by all skin types, including sensitive.
In the anti-pollution family, I ask for Kombucha Facial Treatment Essence by Fresh (50 ml, €36), based on antioxidant fermented black tea, the Hydra-Essentiel Multi-Protection Moisturizing Mist by Clarins (100 ml, €29), or the Double Essence Lotion Peeling Pure Shots by Yves Saint Laurent (150 ml, €75.50) dedicated to urban skin. This two-phase lotion with argan oil, exfoliating acids (LHA and AHA) and plant extracts, refines the appearance of pores and brings luminosity to skin subjected to pollution, UV, stress, lack of sleep…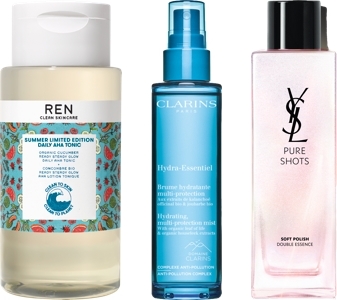 Youth To The People's Exfoliating Facial Toner (118 ml, €34, at Sephora) also contains Kombucha black tea and 11% AHA (8% lactic acid and 3% glycolic acid), to smooth the skin texture.
Certified organic, Akane's Radiance Care Lotion (150 ml, €14), with organic rose floral water and fruit AHAs, reveals the complexion's radiance, as does Here You Glow, Exfoliating Toner with Nutricentials bio-adapted ingredients by Nu Skin (150 ml, €27.32).
Fenty Skin's aptly named Fat Water (150 ml, €25) is a textured lotion-serum that tightens pores, brightens skin and combats shine.
Decléor's Active Rosemary Officinal Essence (200 ml, €30) with its purifying essential oils and naturally derived salicylic acid purifies blemished skin without drying it out.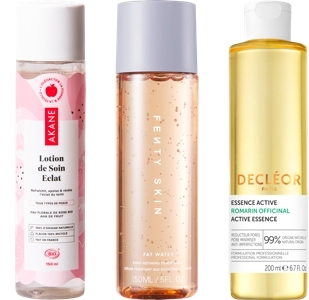 As for Fresh's Umbrian Clay Pore Purifying Facial Toner (200 ml, €36), this clay-based lotion controls sebum and minimizes the appearance of pores, while matifying and softening the skin.
Moisturizing or anti-aging
Here we find Resultime's Night Peeling Lotion with plumping collagens + AHAs (100 ml, €29.90), Filorga's NCEF Essence, Supreme Multi-Corrective Lotion, Hydration-Eclat (150 ml, €48.90), or Sanoflore's Aqua Merveilleuse Peeling Botanique (100 ml, €17.80 or 200 ml, €27.90), an anti-aging lotion with organic essential oils of pelargonium and lemon balm that boosts cell renewal and leaves the skin hydrated and comfortable.
Confidence-in-a-gel Lotion by It Cosmetics (75 ml, €39, at Nocibé) is a light moisturizer that still promises 72H hydration!
Eau Cellulaire Lotion-Essence by Institut Esthederm (125 ml, €31) is so comfortable that in summer it can stand alone.
L'Occitane en Provence's Fleur de Lumière Reine Blanche Lotion (200 ml, €29) tracks down pigmentary spots and promises transparency and uniformity to the complexion.
One of the most original lotions can be found at Origins: the Mega-Mushroom™ Soothing Pre-Care Lotion (400 ml, €56 in limited edition or 200 ml, €35.50). It combines prebiotics from mushrooms and a patented probiotic from Lactobacillus (this soothing ferment strengthens the skin barrier and boosts skin resilience) to maintain a healthy skin microbiome.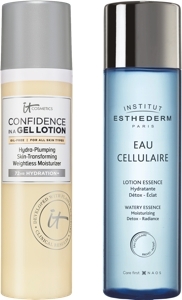 The most surprising immaterial texture
When lotions inspire skincare, it results in "dematerialized" textures. What if this is what we've been waiting for, just like our lifestyle? To obtain absolute comfort without feeling anything on your skin.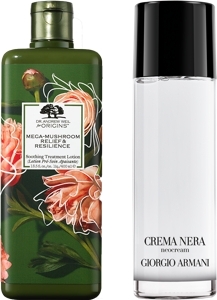 This is the sensation experienced when applying Giorgio Armani's Crema Nera Neocream (125 ml glass bottle, €250), one of the most successful examples of liquid care, as well as a new skincare experience.
This truly innovative liquid-in-cream formula with an evolving texture combines the fluidity of a cosmetic water with the concentration of a serum and the nutrition of a cream. At first glance, it looks like a lotion, but on contact with the skin it becomes richer, moving from a liquid to a cream texture. Ultralight but deeply moisturizing, it offers an amazing nourishing power. You can also modulate its comfort according to the quantity applied, one layer to use it as a rich care lotion (which can be sufficient in summer for example), two layers (even three in case of dry skin) to obtain the comfort of a cream. It can be adapted according to the needs of the skin and the desires of the moment.
The formula itself is broken down into particles 5,000 times smaller than a pore, in order to offer deep intracellular penetration, extremely precise, to repair the skin barrier. Included in this microemulsion is the star ingredient of this entire luxurious and singular anti-aging line: Reviscentalis™, an extract of the brand's exclusive resurrection plant (this plant is able to come back to life after nearly drying out thanks to its exceptional metabolism, and it comes from a sustainable source of exploitation, which respects the natural environment and local communities), as well as a new generation of ceramides with profoundly restorative benefits for the skin.
Ariane Le Febvre
© 2021 - 2022 CosmeticOBS