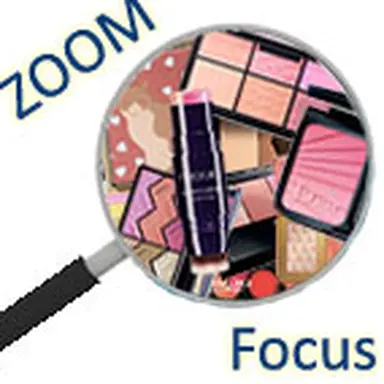 It is the end of mono blush! Two, four, or even seven colours of blush are now available in the same palette! That is just perfect to offer our cheekbones a tailor-made shade. Cheeks are definitely in the spotlight this spring…
In June 2014, Urban Decay already created a palette including a tanning powder, a blush, and a highlighter, in different matte, sequined, or intensely pigmented effects (Naked Flushed, €32, three harmonies, in Sephora stores).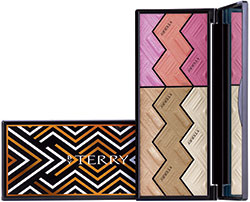 One year later, By Terry launched their own Sun Designer Palette (€72): six refined, matte, or satin-like shades that faded into all complexions to highlight any tanned skin.
These two pioneers set the tone for spring 2017. On the one hand, they have developed palettes (the easiest to use) containing a blush, a tanner (or a darker blush to sculpt the face), and a highlighter. On the other hand, they have created palettes requiring more expertise, playing either with different blush shades or different tanning powder colours. Meanwhile, the contouring and strobing trends emerged: from now on, blush should be thought of in plural terms. Today, consumers want to be able to personalize their blush or tanner shades, and adjust them to all looks, every day of the year.
All about cheeks!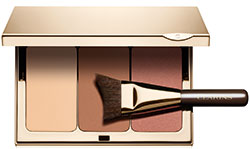 There are more palettes combining tanning powders (or contouring powders), blushes, and highlighters on the market.
For example, Clarins has developed three universal shades: a matte highlighter to create volume and light, a powder to darken and draw face contours, a fresh blush for a healthy glow (Face Contour Palette, €47.50).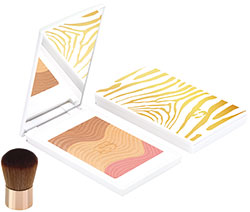 Sisley has launched Phyto-Touche Poudre Éclat Soleil (€80, featuring a mini Kabuki brush) in two harmonies: Golden Peach Trio (to brighten clear complexions) and Honey Cinnamon Trio (to enhance matte complexions). This product uses a new technique called 'Back Injection', which provides the product with its powder-cream texture, the secret of its fusion with the skin. Wrapped with volatile oils, the paste powder is pressed and baked for all the oils to evaporate. Then, the paste becomes a powder for long-lasting sensorial, comfortable, blurry textures. The three skilfully shaded natural colours wonderfully combine to create a tailor-made tan, depending on the season, mood, and complexion.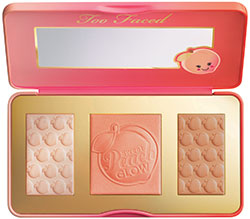 Too Faced innovates with Sweet Peach Glow, an illuminating powder palette which combines a highlighter, a blush, and a tanner (€40, in Sephora stores). And the icing on the cake is that the formula contains an essence to give it a peach scent!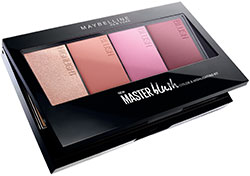 Other palettes make a distinction between the blush and tanner.
As an example, Maybelline New York will offer two palettes as from February. The first is a trio of blushes (Palette Master Blush, €12.99, one shade only).
The second is a trio of tanning powders for a tailor-made tan (Master Bronze, €12.99). They both go with a universal highlighter for a bright, sculpted complexion.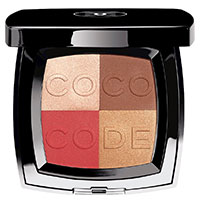 As for Chanel, their Spring Exclusive Creation is called 'Coco Code', Blush Harmony (€57, ephemeral edition). It is composed of four shades (two matte, two satin-like): slightly peachy beige, golden honey, soft beige with caramel shades, and bright pinkish red.

Two or three blush shades or nothing!
In their Spring 2017 Collection Les Petits Noms d'Amour, Paul & Joe have launched a Powdered Blush
available in two shades (€18, three duos), and a lovely Face & Eye Colour CS sculpted with little cats (€34, three harmonies).
Lumières de Kyoto Blush Harmony by Chanel (€63) displays three refined monochrome shades to beautify the tiniest area of the face. One can take a small quantity of powder as a whole or apply the brightening shade on light points, and the blush on the cheeks.


By Terry are the only ones to have designed a two-shade blush in the form of a stick to be used as a blush, tanner, and highlighter, with an integrated brush both very gentle and accurate (Glow-Expert Duo Stick, a hybrid two-colour sculpting illuminator, €46). Lay it down on the side to apply only one shade, or flat for a double tailor-made effect.
Even the latest edition of the famous Sephora Sun Disk, reinvented every year, combines its tan shade with peach (€18.50, limited edition).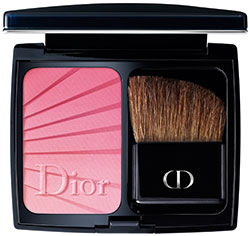 In their Spring 2017 Collection Colour Gradation, Dior also plays with pink for cheeks, in different degrees, with the Diorblush Colour Gradation (€48, two shades). This collector's edition adorned with the iconic pleats is available in a healthy glow shade: Pink Shift, which goes from a soft wild rose colour to feverish pink. As for Coral Twist, it is a variation of vibrant coral shades.
Lastly, Serge Lutens injects poetry in everything he touches! His Nécessaire de Beauté, duo blush is called 'Le Soupir de l'Ange' (the Angel's Sigh), with two light-shaded colours (€160).
Up to seven colours!

Much less shy, the two L'Oréal Paris Palettes Blush Infaillible Paint boast five intense colours (€18.50, two harmonies).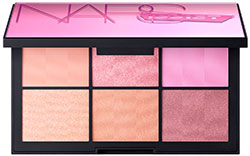 As for Terra Healthy Glow, the Glam Bronze range (€16.20) offers two tanners, one blush, and one illuminator.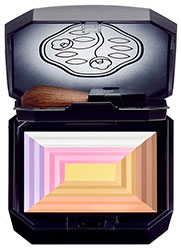 Nars offers two palettes with six shades (Narsissist Unfiltered I and Unfiltered II Cheek Palettes, €51 each).
But the most complete palette was created by Shiseido: 7 Colours Powder Revival Centennial Edition, a contemporaneous re-edition of the Rainbow Beauty Powder created 100 years ago! (€48, as from March). This version offers endless possibilities: light powder, sculpting powder, blush, and even eye shadow! You have the choice between mixing all shades or play with them separately.
© CosmeticOBS-L'Observatoire des Cosmétiques
© 2017- 2022 CosmeticOBS